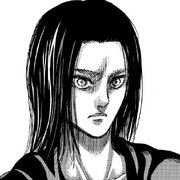 I'm kinda all over the place between the anime and the manga. I watched the first season then started reading up what was on the wiki and then I found a website where I've started reading the manga, but I skipped to issue 85 because I wanted to know what was in the f***ing basement. But from what I know, holt s***! But the one thing that is driving me crazy is the revelation that Krueger somehow knew about Mikasa and Armin even though they haven't been born yet. Not only that he be specifically instructed Grisha to save them espeically out of everyone he entrusted him with protecting. Even more creepy is he didn't even know whose memories he was seeing. I think somehow Eren Krueger is actually Eren Yeager in a past life.
There is a striking resemblance between both Erens as children and even the adult Eren kinda resembles what an older version of teenage Eren could be. Even their Titan forms are similar in appearance. In the first issue of the manga Eren wakes up from a nightmare he doesn't remember and in the anime it's shown that he's having nightmares of his mother's death, among other things, before it actually happens. Then in the flashbacks Kreuger tells Grisha to protect Armin and Mikasa but then admits he doesn't know whose memories he's seeing. I think Eren somehow has the power to see the future and if Kreuger is him in a past life I think he was seeing the memories of his own future life as Grisha's son. Through this Eren indirectly laid the foundation for his next life by telling Grisha to find and protect the two people who would be most important to him. I also think that's why Grisha took Eren with him to meet Mikasa the day her parents were killed because Eren had met Armin prior to that he realized that Kreuger's words were coming true, and wanted to make sure Mikasa was involved in Eren's life too. Hell this may be why Grisha named his son after him.
I think also gives deeper meaning to Eren's driving goal of escaping the Walls and into the world beyond and to free humanity of the Titans' reign of terror. Maybe this is because he has memories of his life as Eren Kreuger buried deep down and they're influencing his decisions as Eren Yeager. I think Eren deep down already knows that Titans are Marley's way of punishing Marley-Eldians, and for keeping Wall-Eldians in their place. To this end I think his absolute hatred for the Titans and thirst for freedom is really his hatred towards Marley for keeping the Eldian people oppressed for so long and for what they turn them into. It could also be all the horrific crap Marley made him do while he was pretending to be one of them. 
Just a theory and maybe a stretch but I cannot figure out how else Kreuger could know about Mikasa and Armim.