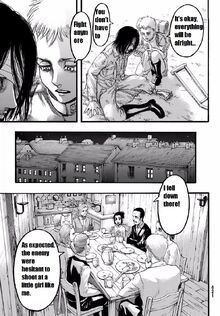 After reading Chapter 94 again I picked up on something I didn't really think about the first time. Among the Marley-Eldian soldiers that suffered severe physical injuries and were being escorted to the hospital there was one soldier was wearing his arm band on the wrong shoulder as Falco pointed out. This soldiers' face wasn't directly shown and was either covered by speech bubbles or he simply wasn't directly facing the panel. I think this soldier in question is actually Eren Yeager in disguise infeltrating Liberio.
We haven't seen Eren in a while and the series is now set in the year 854 and he will look a bit older now. When we did last see him in the year 851, as shown in the picture to the right, his hair was is bit longer and the soldier with the missing leg also has longer hair and actually kinda resembles Grisha a bit. While Titan shifters can heal they do appear to be able to delay it should they choose and Reiner's arm was almost bit off by a Titan and to keep his cover he kept it that way, only healing it before revealing himself as the Armored Titan and Eren could be doing the same thing. 
It is clear that there is an impending war between Paradis and Marley so maybe this is the first step? Maybe Eren is performing an undercover recon mission for the Survey Corps and has been sent in to identify the remaining Titan shifters on Marley's side and gain a better understanding of enemy territory. It would be kinda ironic considering Reiner, Bertholdt and Annie infeltrated Paradis in disguise at the start of the series, and now Eren is infeltrating Marley.