We are a community dedicated to the manga Attack on Titan (進撃の巨人 Shingeki no Kyojin?) created by Hajime Isayama, as well as its anime adaptation and all other derivative works. This encyclopedia is written by fans for fans, and everyone is welcome to participate. Edit the articles, upload your photos and videos of the series, or comment on our forum. Today is Monday, December 9, 2019, and we are editing over 2,243 articles and 6,348 images and videos.
Please be aware, before progressing any further, that this site contains heavy spoilers.
Synopsis
"That day, the human race remembered the terror of being dominated by them, and the shame of being held captive in a birdcage..." — Over 100 years ago, a natural predator of humanity appeared: the Titans, giant humanoid but mindless monsters whose sole purpose of existence seemed to be to devour humans. There was an insurmountable gap in power between them and mankind, and as a result, humanity was rapidly exterminated to the brink of extinction. The survivors responded by constructing three concentric walls: Wall Maria, Wall Rose and Wall Sina, which graced them with a century of peace. However, one day a Colossal Titan far larger than any other seen before breached the outer wall, allowing the smaller Titans to invade the human territory and forcing the survivors to retreat to the inner walls. Eren Jaeger, a boy whose mother was eaten during the invasion, vowed to wipe every last Titan off the face of the Earth, and joined the military determined to exact his revenge.
Featured Article
Floch (フロック Furokku?) is a recruit (新兵 Shinpei?) of the Scout Regiment. He joined the regiment after the crowning of Historia Reiss.
---
Floch is, by his own admission, a coward. Part of Floch's cowardice seems to stem from a belief that his death should not be "meaningless," as he expressed during the Battle of Shiganshina District. Despite this, Floch has proved himself to be capable of acting courageously. He was willing, despite his fear, to participate in Erwin Smith's suicide charge against the Beast Titan, and was willing to stand up to his fellow soldiers when they suggested allowing Erwin to die in favor of saving the life of Armin Arlelt, even going so far as to risk being attacked by Mikasa Ackermann to keep her from taking the Titan injection from Levi.
Read the full article here.
More featured articles >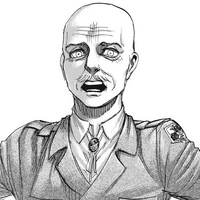 Dot Pixis (ドット・ピクシス Dotto Pikushisu?) was the Garrison's former Chief Official of the Southern Territories (南側領土最高責任者 Minamigawa Ryōdo Saikō Sekininsha?, also translated as "Highest Ranking Commander of the Southern Territory"), which includes Trost District.
---
After it is discovered that Eren Yeager can transform into a Titan, Eren is sentenced to death. Pixis, however, happens to be nearby when Armin Arlert gives a passionate speech in defense of his friend, vouching for the strategic and tactical benefits that he can bring to turn the tide of the battle. The officer in charge, Kitz Weilman, is not swayed, but as he is about to give the kill order, Pixis stops him, believing Armin's words.
Pixis brings the three soldiers on top of Wall Rose and clears up the matter of Eren's transformation by saying he will see the proof in Eren's basement. He questions Armin about his plan to use Eren's Titan form to seal the hole in Wall Rose and is so encouraged he decides to use it. He calls up his staff officers to begin planning for the assault.
Read the full article here.
More featured articles >
Latest Release
The Other Side of the Wall (壁の向こう側 Kabe no Mukougawa?) is the 59th episode of the Attack on Titan anime. It was produced by Wit Studio and Production I.G.
---
The royal government decides to release the information contained in Grisha Jaeger's journals to the general public, causing some chaos as people try to accept the news. Some do not. However, progress on killing Titans with the Executioner from Hell continues until there are scarcely any left, and refugees are allowed to resettle Wall Maria.
A year after the attack on Trost District and six years after the fall of Wall Maria, the Scout Regiment is able to launch an expedition past Wall Maria to explore the land outside. They see the wall where the Restorationists were turned into Titans, and eventually arrive at the sea; a body of salt water so vast it stretches to the horizon. Most of the Scouts are happy to play in the surf, but Eren Jaeger is pensive, knowing that their enemies live on the other side of the sea.
Read the full summary here.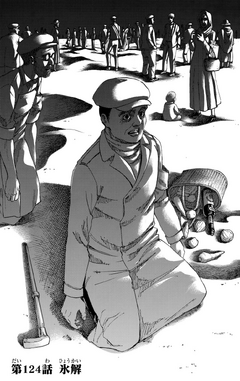 Thaw (氷解 Hyōkai?) is the 124th chapter of the Attack on Titan manga, written and illustrated by Hajime Isayama.
---
Gabi Braun leaves Reiner behind so she can save Falco Grice, and rescues Kaya from a Titan along the way. Kaya, in turn, covers for Gabi when a soldier suspects she might be from Marley. The two are conflicted over why they helped each other and Gabi remains with the Blouse family while heading to safety.
Meanwhile, Connie Springer abducts Falco to feed to his mother to make her human again, leaving Jean Kirstein, Mikasa Ackerman, and Armin Arlert to handle the newly formed Pure Titans, which have moved on to killing Eldian soldiers after they finished with the Marleyan ones. With assistance from a newly freed Keith Shadis they succeed in gathering all the Pure Titans together at the top of the fort in the middle of town and annihilating them with Thunder Spears. Floch Forster returns to restrain Yelena and the other Anti-Marleyan Volunteers. Inside the fort, Armin meets up with Gabi, who lets him know that the Founding Titan undid the hardening on the Armored Titan at the same time as the Walls came down. Armin realizes that this means Annie Leonhart is now free as well.
Read the full summary here.
Events
| | |
| --- | --- |
| | Season 4 ("The Final Season") has been confirmed for a Fall 2020 release! Discuss it here. |
Community Activity
I think its weird that Eren says Zeke`s euthanasia plan is messed up and then comes up with a genoc…

Read more >

hey guys, you like my cosplay I've have some good ones.

)

Read more >

THIS INVOLVES MAJOR SPOILERS SO DON ' T READ IF YOU HAVEN ' T READ UP TO EPISODE 120 .

Basically my …

Read more >
More blogs >
Affiliates
Do you want to affiliate with us? Check out our Affiliate Guidelines.






























Founded on August 7, 2011
Community content is available under
CC-BY-SA
unless otherwise noted.