We are a community dedicated to the manga Attack on Titan (進撃の巨人 Shingeki no Kyojin?) created by Hajime Isayama, as well as its anime adaptation and all other derivative works. This encyclopedia is written by fans for fans, and everyone is welcome to participate. Edit the articles, upload your photos and videos of the series, or comment on our forum. Today is Tuesday, January 25, 2022, and we are editing over 2,565 articles and 7,699 images and videos.
Please be aware, before progressing any further, that this site contains heavy spoilers.
Synopsis
"That day, the human race remembered the terror of being dominated by them, and the shame of being held captive in a birdcage..." — Over 100 years ago, a natural predator of humanity appeared: the Titans, giant humanoid but mindless monsters whose sole purpose of existence seemed to be to devour humans. There was an insurmountable gap in power between them and mankind, and as a result, humanity was rapidly exterminated to the brink of extinction. The survivors responded by constructing three concentric walls: Wall Maria, Wall Rose and Wall Sina, which graced them with a century of peace. However, one day a Colossal Titan far larger than any other seen before breached the outer wall, allowing the smaller Titans to invade the human territory and forcing the survivors to retreat to the inner walls. Eren Jaeger, a boy whose mother was eaten during the invasion, vowed to wipe every last Titan off the face of the Earth, and joined the military determined to exact his revenge.
Featured Article
Porco Galliard (ポルコ・ガリアード Poruko Gariādo?) was an Eldian and the younger brother of Marcel Galliard. He was one of Marley's Warriors and possessed the ability to transform into the Jaw Titan.
---
After Ymir, a former Pure Titan who devoured Marcel on Paradis Island, surrenders herself to Marley to return the Jaw Titan power she inadvertently stole, Galliard is chosen to consume her and inherit the power. He inherits Ymir's memories and understands her history and motives, but he sees nothing from the memories of his brother. Four years after the Warriors' return from Paradis, Galliard is present at the battle of Fort Slava. Under orders from the Warriors' Marleyan superior Commander Magath, he and Pieck are unauthorized to engage in combat with the Mid-East Allied Forces at the fort due to the presence of the highly dangerous Anti-Titan Artillery. However, once Gabi succeeds in destroying the armored train holding the artillery, Galliard joins the fight and shields her and Falco from machine gun fire before charging forward and decimating the enemies' defenses.
Read the full article here.
More featured articles >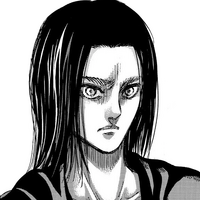 Eren Yeager (エレン・イェーガー Eren Yēgā?) was a former member of the Survey Corps. He was the main protagonist of Attack on Titan. He lived in Shiganshina District with his parents until the fall of Wall Maria, where he impotently witnessed his mother being eaten by a Titan.
---
After Eren is woken from a nightmare by Mikasa, the two walk home through Shiganshina. They are harassed by Hannes, who begins teasing Eren for having apparently cried in his sleep. Eren is annoyed to see that Hannes and his friends are slacking off on the job and refuses to be placated by their claims that the Titans will never breach Wall Maria.[1] Leaving Hannes behind, the children stop again to watch the Survey Corps return from an expedition and Eren is crestfallen to see that the Corps has returned defeated.
Upon returning home, Mikasa reveals to Eren's mother that he wants to join the Survey Corps. Carla forbids him from joining due to the Corps' high mortality rate and begs Grisha to talk some sense into his son. Grisha ignores her objections and instead announces that he will be leaving for a few days on a trip, promising Eren that when he gets back he will show the boy what he has hidden in the basement of their home. Enthralled, Eren joins his mother and Mikasa in waving him off. Carla reminds him that she will not allow him to join the Survey Corps, and they exchange a heated argument before he runs off.
Read the full article here.
More featured articles >
Latest Release
Two Brothers (兄と弟 Ani to Otōto?) is the 78th episode of the Attack on Titan anime. It was produced by MAPPA.
---
Colt Grice pleads with Zeke Jaeger to not use the Beast Titan's scream so his brother Falco is not transformed into a Titan. However, Zeke refuses and transforms not just Falco, but every soldier in Shiganshina District who drank his spinal fluid. The Titans begin attacking the invading Marleyan military and Zeke commands the newly transformed Falco to attack Reiner Braun and free his own brother, Eren.
Zeke is shot through the nape by Theo Magath and his artillery crew, but survives by playing dead and allowing his Beast Titan to dissolve. Realizing this, Eren traps Reiner by grabbing him and hardening his Titan, while escaping out the nape. He runs on foot to join Zeke, but is decapitated by a shot from Gabi Braun. Eren wakes in the Paths with Zeke, who explains that this is where the royal family would command their ancestor Ymir to do their bidding. When Eren refuses to go along with the Eldian euthanasia plan, Zeke vows to use her power to force Eren see things his way.
Read the full summary here.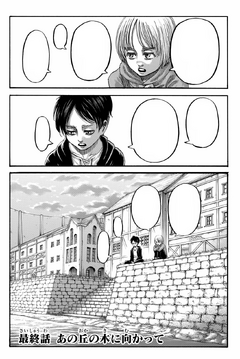 Toward the Tree on That Hill (あの丘の木に向かって Ano Oka no ki ni Mukatte?) is the 139th chapter of the Attack on Titan manga, written and illustrated by Hajime Isayama.
---
After Eren Yeager's death at the hands of Mikasa Ackerman, many of his former comrades from Paradis Island begin recalling memories of him visiting them that were erased due to the power of the Founding Titan. Armin Arlert recalls how they discussed Eren being responsible for killing a vast majority of humanity during the Rumbling and reveals his true feelings about Mikasa, wishing to be able to live with her and the others in peace.
In the present, Armin notices his Titan form dissolving into steam and spots Mikasa approaching with Eren's head. He mourns his best friend's death and while Mikasa leaves to bury his remains, Armin approaches the Marleyan troops with the other Eldians and claims responsibility for the death of Eren. Several years pass and peace talks have begun between those living in Marley and the island of Paradis, which has begun mobilizing an army for the time when Marley and the other countries seek their revenge. As Mikasa sits beneath the tree where Eren is buried, she thinks about him and notices a bird flying to her. The bird picks at her scarf and adjusts it before flying away.
As the years go by, Mikasa raises a new family before passing away. Afterwards, Paradis is destroyed by war, and many countless years later Eren's colossal tree is rediscovered by a wandering child.
Read the full summary here.
Community Activity

Tycio
•
Feuerroter Pfeil und Bogen#November 2021 political controversy
Legendary timeline
This blog is just my opinon. These are my favorite characters with the reasons why they are my favo…
More blogs >
Affiliates
Do you want to affiliate with us? Check out our Affiliate Guidelines.





























Founded on August 7, 2011