This article is about the 35th episode of the Attack on Titan anime. For the manga chapter of the same name, see Children (Chapter).
---
When I opened my eyes...what I saw was freedom spread out before me. If there was such a thing as fate, I can only laugh at how fickle it can be.
— Ymir recalls her awakening
Children (子供達 Kodomo-tachi?) is the 10th episode of the 2nd season and the 35th episode overall of the Attack on Titan anime, produced by Wit Studio and Production I.G.
Overview
While Moblit makes a shocking discovery in Ragako, Erwin's scouting formation nears the Forest of Giant Trees. The Warriors make their escape, but Ymir desires to see Christa again.
Seeing similarities in Christa's past and her own, Ymir refuses to cooperate with Reiner and Bertholdt until they agree to take Christa with them. The soldiers arrive shortly afterward, coming across Ymir's Titan. When Christa is captured by Ymir, the soldiers immediately begin pursuit.
Summary
Coming to Ragako, Moblit discovers that the scene is as the reports had said: rampant destruction, yet no signs of any blood or remains. Moblit is skeptical of the idea that the residents evacuated to Wall Sina while leaving their horses at the town stables. A fellow Scout leads him to the Titan atop Conny Springer's old home while another recovers an item from the wreckage: a portrait of Conny's father and mother. He drops the portrait when the Titan suddenly stirs, and upon closer examination he is stunned to realize that the Titan atop the ruins bears exact resemblance to Conny's mother.
In the Forest of Giant Trees, Reiner leaves Ymir with the choice of ensuring a safe future for Christa or saving her own life. Still confused over the turn the conversation has taken, Eren demands to know who their enemy is. Ymir is unsure. Reiner and Bertholdt prepare to take Eren and Ymir and move out when suddenly a line of signal flares is spotted on the horizon, heralding the arrival of the Scout Regiment much sooner than expected. Bertholdt stops Reiner, making sure that he is in his "Warrior" state of mind, and Reiner assures him that his mind is clear. Bertholdt is skeptical of Reiner's trust of Ymir, who ate their comrade Marcel five years ago, but Ymir's self-serving life until encountering Christa is reason enough for her to join their cause.
Reiner clarifies that Christa's family's connections with the Order of the Walls make her a valuable asset, and having her with them will make their goal much easier if Eren is not the "Coordinate" they are searching for. As the soldiers approach, Bertholdt assures Reiner that their time in the Walls will be over once they can deliver Annie, Christa, and the "Coordinate" to their hometown. Reiner suggests that once they return home, Bertholdt should confess his true feelings to Annie, something that has become noticeable with how much he stared at her. With the two being murderers with short lives ahead, Reiner believes the risk is worth it.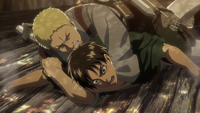 Reiner maneuvers to Eren's branch and prepares for any fight Eren will put up. Eren claims he is unable to resist given his current state, but he mercilessly assaults Reiner shortly afterward anyway. While Reiner strangles Eren, Bertholdt approaches Ymir and asks her if she remembers who she ate when she returned to her human form five years ago. Ymir admits that she does not remember, but realizes that it must have been one of Bertholdt's companions. She apologizes, but Bertholdt tells her that the memory loss was the same for himself and his friends as well, and Eren does not seem to remember who he ate either. As Eren slips into unconsciousness from Reiner's chokehold, Bertholdt asks Ymir how long she wandered beyond the Walls as a Titan. Ymir recalls that it was about sixty years, a nightmare that would not end.
Approaching the forest, the military formation encounters many Titans on the front lines, but Commander Erwin insists that they must press forward. At the forest's edge, Reiner and Bertholdt escape on their ODM gear, searching for an area without Titans to hinder their escape. Ymir wonders why they have hastened their plans until she spots the smoke signals for herself, realizing the Scouts are approaching.
Reiner wants to avoid confrontation with Erwin, but Ymir feels a strong intuition that Christa is with the Scouts approaching them. Reiner brushes off Ymir's demands for them to retrieve Christa, saying they will return for her another time, but Ymir believes she will be fed to another Warrior before that can happen. If they do not wait for Christa now, Ymir will likely never see her again. Bertholdt apologizes for their inability to retrieve Christa, and Reiner assures Ymir that Christa's safety is a high priority for them as well. Accepting their words and recalling her distant past, Ymir regrets her decision to lie to herself once again.
Over sixty years ago, Ymir was a nameless orphan beggar in a civilization beyond the Walls. After being found by the leader of a cult, he gave the girl the name "Ymir" and declared that she possessed the "blood of the king" which could grant the cultists immortality. Ymir's life took a turn for the better; she received good food, good rest, and the cultists worshiped her as a goddess. Ymir's role brought happiness to those around her.
However, one day the cult was discovered by a force of authorities who arrested them all at once. The leader of the cult pointed the blame at Ymir, claiming she had lied to them of her blood of the king. When cornered, Ymir chose to abide by the role that brought others happiness and kept her name. Afterward, the arrested cultists were brought through the streets and stoned by the onlookers. They were taken to remote borderline, and there the cultists were all given injections and thrown from the wall, transforming them into Titans.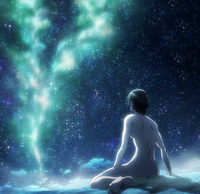 As a mindless Titan, Ymir wandered the world beyond the Walls. Ymir believes that her punishment was not for her deception of others, but for her reliance on others' approval. After some time of wandering, Ymir's Titan rested in the earth which settled over her as the decades passed by. One day, Ymir's rest was disturbed by the arrival of the Warriors who were setting up camp. Ymir's Titan came for Reiner, but grabbed Marcel when he pushed his friend out of harm's way. As the other three Warriors fled, Marcel was eaten by Ymir. That night, Ymir awoke in human form under the cloudless stars. With a new chance at a free life before her, Ymir promised to live a life for herself free from the lies of others.
However, after hearing of "Christa Lenz" from the Wallists, a girl who entered the Cadet Corps whose life some wished would never have happened, Ymir dedicated her life to finding this girl who shared a past so alike to her own. After meeting Christa, Ymir came to realize Christa was living a life of lies just as she had.
With her mind made up, Ymir interferes with Bertholdt's maneuvering, threatening to take Eren and escape to the Scouts if they do not stop and wait for Christa. Reiner reminds Ymir of their situation, and Ymir admits that she is willing to risk Christa's future if it means they can meet one last time. She claims that he may be able to buy them time to escape, or they could also fight to the death if Ymir's demands are not met.
The pursuing soldiers finally reach the outskirts of the forest. Noticing the light of a Titan transformation, Commander Erwin orders the troops to disperse and enter the forest. As the MPs face significant difficulties against the Titans, the rest of the soldiers avoid combat in favor of seeking out Eren. A scream is heard deeper in the forest, and the Scouts pursue until they come across Ymir's Titan. Conny stops the others from attacking her, asking her where the others have gone.
As more Scouts gather around her Titan, Ymir avoids conversation and looks at each soldier's face. Armin wonders what Ymir is doing until Christa arrives at the scene, immediately catching Ymir's attention. When Christa approaches, Ymir's Titan lunges at her and catches Christa in her mouth before making a quick escape. The others pursue her, realizing that Ymir's allegiance has changed.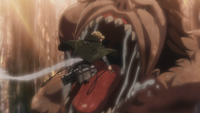 When Ymir nears the edge of the forest, Reiner transforms into the Armored Titan and begins their escape. Bertholdt carrying an unconscious Eren grapples onto the Armored Titan's back alongside Ymir's Titan.
The others watch in disbelief as Eren is once again carried away by the Warriors, but Hannes rallies them into action. The soldiers return to their horses and begin a final pursuit for Eren's rescue. Hannes is determined to rescue Eren, even at the cost of his life.
Currently Publicly Available Information
Ymir's Hometown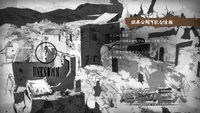 It is not known where Ymir's hometown is located. However, its location is most certainly outside the confines of the Walls.

Characters in order of appearance
Cast
Japanese
Saki Fujita as Ymir
Tomohisa Hashizume as Bertholdt Hoover
Daichi Endō as Peer
Yukari Shimotsuki as Phil
Masamichi Kitada as Marcel
Toru Sakurai as Moblit's subordinate
Shunsuke Kanie as Moblit's subordinate
Hiroaki Okuda as Scout
Hirosato Amano as Soldier
English
Community content is available under
CC-BY-SA
unless otherwise noted.