Damn! Just my luck, running out of gas at a time like this!
— Jean is lost in the wilderness
Day 18 (18日目 Jūhachinichime?) is the 2nd segment of the 7th episode and the 18th segment overall of the Chibi Theater: Fly, Cadets, Fly! anime, produced by Wit Studio and Production I.G.
Overview
Jean gets lost during endurance training.
Summary
The cadets conduct an endurance training out in the wilderness during a rainstorm. Jean is annoyed by the harsh environment, but cannot afford to slack off, resolving to get back at Eren by getting better marks. He decides to take a shortcut through the trees and separates from the others, catching Marco's attention.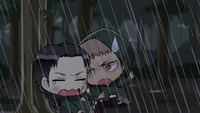 Jean awaits the others unbeknownst to him that they took another path. Realizing that something is off, he frantically moves out trying to catch up to them, but runs out of gas and becomes lost. Back at the drill grounds, the commandant asks if everyone is present and Armin mentions the absence of Jean and Marco. Eren believes that they are slacking off, but Mikasa remarks that Marco would not do that. Jean is freezing while wandering around on foot trying to get back, only to find himself back right where he first started. He is shocked when he stumbles upon Marco lying on a tree, wondering if he was also trying to cheat. Jean starts slapping Marco repeatedly in order to wake him up. Marco explains that he saw Jean go a different way and followed him, with the latter stating the former's moral behavior.
Marco gives Jean his gas cylinder, telling him to save himself, but Jean grabs Marco and they both head out until they spot the fire torches from the others looking for them. Jean states that not everyone needed to come, telling them that he and Marco were about to make it back on their own. Eren points out Jean's attitude, with the latter arguing that he did not ask for help, believing that nothing good happens when he teams up with them, as a Titan suddenly appears and eats a bunch of the cadets. Inside its stomach, Jean uses the situation to prove his earlier point while Eren blames him for it to begin with.
Characters in Order of Appearance
Community content is available under
CC-BY-SA
unless otherwise noted.