But how do I close this gap between young soldiers and myself?
— Erwin ponders over connecting with young soldiers
Day 23 (23日目 Nijūsannichime?) is the 1st segment of the 9th and final episode and the 23rd segment overall of the Chibi Theater: Fly, Cadets, Fly! anime, produced by Wit Studio and Production I.G.
Overview
Erwin tries to make appeal to young soldiers.
Summary
Erwin ponders over his difficulty of connecting with the younger soldiers and fears for a plummet in the Scout Regiment's recruits number as a result.
He decides to give himself an image makeover in hopes of coming off as a friendly and witty commander by trying a more candid approach. Later on, Erwin approaches Gunther and Eld while loudly laughing and wishes them a good morning. He makes a couple jokes while the two stand confusingly staring at him. Back in his office, Erwin laments his failed attempt at exchanging humorous jokes with the soldiers, then decides to sport a more youthful hairstyle.
He approaches Oruo and Petra with his now freely-styled hair and suddenly stands behind Petra, asking her about what she sees, startling her. Pondering over the matter again, Erwin changes his appearance by wearing glasses and a fedora while sporting a fake mustache and a flashy undershirt, but still fails at appealing to the soldiers. Levi enters Erwin's office and questions him about the matter, telling Erwin that his squad members have been complaining about him.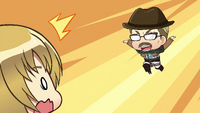 Erwin explains his dilemma to Levi, with the latter suggesting to try approaching cadets first. At the cadet training facility, Erwin and Levi spot a group of three cadets and Erwin approaches them while running and making gestures, frightening the three cadets, who start fleeing, just when a Titan suddenly appears and eats them all. Inside its stomach, Erwin still tries asking one of the cadets for advice, but receives no response.
Characters in Order of Appearance
Community content is available under
CC-BY-SA
unless otherwise noted.