This article is about the 47th episode of the Attack on Titan anime. For the manga chapter of the same name, see Friends (Chapter).
---
This article is incomplete.
Please feel free to edit this article to add missing information and complete it.
Friends (友人 Yūjin?) is the 10th episode of the 3rd season and the 47th episode overall of the Attack on Titan anime, produced by Wit Studio and Production I.G.
Overview
Summary
Currently Publicly Available Information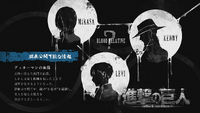 Ackermann Family
A family of warriors who once served the royal government. They began to be persecuted after distancing themselves from the royal family. The details are unknown, but some experience a mysterious 'awakening' and gain abilities exceeding a typical human's.
Characters in order of appearance