Doctor Strange in The Multiverse o Madness - The Loop
Play Sound
Mitabi Jarnach (ミタビ・ヤルナッハ Mitabi Yarunahha?) is a 2nd year student at Attack Junior High School.
Appearance
Mitabi has a short crop of brown hair, dark brown eyes, and a short beard.
Story
Mitabi is first seen training with a student in the Judo Club.[1]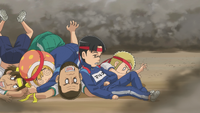 In the school's Sports Day games, Mitabi participates in the last game, shoulder wars. He and his team attempt to intercept an opposing Year 1 team, until he is held off by Armin and his team, who lunge themselves at Mitabi's.[2]

References
Navigation
Junior High
Summaries
Attack on Titan: Junior High (Manga)

 · 

Attack on Titan: Junior High (Anime)
Manga
Vol. 1
That Did That To That

 · 

The Suckiest Titan

 · 

Grandpa Arlert

 · 

The Alarm Clock Trap

 · 

The Titan Always Rings Twice

 · 

They're Titans, After All

 · 

A Whiff Of Something Interesting

 · 

The Beautifiers
Vol. 2
This is Not a Game

 · 

Victory Means Validation

 · 

Everyone's After School

 · 

Too Big a Love

 · 

Coupling

 · 

No, I am Not Beneath You

 · 

Upperclassmen are Seriously Scary

 · 

Absolute Strength
Vol. 3
Trash Teacher

 · 

True Colors

 · 

Love is Fireworks in the Distant Past or Something Like That

 · 

It's the Summer Festival! Everyone Gather!

 · 

Capture That Bug! Burning Youth!

 · 

Tastes Like Mother's Cooking but She's Not the One Making It

 · 

No More Blankets On Your Head
Vol. 4
Summer Futon Rescue Mission

 · 

No More Lazing Around in School

 · 

Far Out, Mr. Hannes

 · 

Goodbye Mr. Smith

 · 

Give Back that Resignation Letter!

 · 

Might as Well Jump

 · 

I Want to Change

 · 

Autumn in This Manga

 · 

High Heat Makes Good Fried Rice
Vol. 5
Shiny, Shiny Jr. High Students

 · 

Food Fight! Sasha

 · 

The Black School Festival

 · 

Forever Me

 · 

How to Take the Culture from a Culture Fair

 · 

My Young Heart Tickled by Blindfolds

 · 

Ms. Can-Do is Ms. Popular

 · 

Everybody Wants to Rule the School

 · 

Ilse's Rage
Vol. 6
Do, a Donut, a Female Eating Donuts

 · 

Be-Bop Junior High

 · 

Clown Bertolt

 · 

Iron Chef (14 Years Old)

 · 

Be-Bop Junior High (Battle of the Four Kings of Heaven Edition)

 · 

The Boss is No Weakling

 · 

I'll Expunge the Dirt

 · 

Final Battle! The Wall Beautification Contest

 · 

The Conclusion, No Regrets
Vol. 7
Winter is Coming, So Let's Dance

 · 

BTN (Before the New-School-Year-Ceremony)

 · 

Legend of the Snow Titan: The Mystery where Nobody Gets Killed or Anything Like That

 · 

Legend of the Snow Titan (And So On): All the Answers

 · 

Gimme Bread, Whoa Whoa

 · 

The Ways of a Sophisticate

 · 

I Wanna Be The Man

 · 

Only Comes Once a Year

 · 

Underclassmen-Flavored Cookies

 · 

Kotatsu is Peace

 · 

The Town Knows Him as a Ladies Man
Vol. 8
Sports Test of Fear

 · 

Valentine's Day is War

 · 

Part-Time Job? No Prob at Attack Junior High

 · 

Enter the Hot-Blooded Teacher!

 · 

Mr. Nile's Family Circumstances

 · 

The Family Entanglements Episode? Not Good

 · 

Event-Rich Junior High

 · 

The Show Must Go On
Vol. 9
Light up Your Passion

 · 

So What if the Princess is Bulky?

 · 

It's Only Puberty

 · 

Stress is the Cause of Countless Ills

 · 

Forecast: Explosion

 · 

On a Rainy Day, Play With Your Friends

 · 

Let Them Eat Popcorn

 · 

A Boy and His Erasers

 · 

History Repeats Itself
Vol. 10
My Classmate Smells Sweet

 · 

You Can't Beat Pressure

 · 

Friends Always Share

 · 

Let it Snow, Let Them Burn

 · 

The Snow-shoveling Fanciers Club

 · 

A Day Off is the Time to Try a Change and Maturity Like Nobody's Business

 · 

Friendship Shines... And Sometimes it Doesn't

 · 

A Nice Morning, Feels Dreamy

 · 

A Full-out Dash up the Steps to Adulthood

 · 

Our Life Path, and What Happens Next!!
Vol. 11
Dad On a Weekday

 · 

Confessions of the Perfect Person

 · 

Wanna Be a Sempai

 · 

Working Together

 · 

Goodbyes for the First-Years

 · 

The Dangerous Man in Glasses

 · 

Scary Campus Tales! He Who Turns Kids Into Titans

 · 

Farewell, Attack Junior High!
Characters
Year 1
Eren Yeager

 · 

Mikasa Ackerman

 · 

Connie Springer

 · 

Sasha Blouse

 · 

Marco Bott

 · 

Hannah

 · 

Franz

 · 

Jean Kirstein

 · 

Armin Arlert

 · 

Annie Leonhart

 · 

Bertolt Hoover

 · 

Reiner Braun

 · 

Historia Reiss

 · 

Ymir

 · 

Hitch Dreyse

 · 

Marlowe Freudenberg

 · 

Mina Carolina

 · 

Flegel Reeves

 · 

Kuklo

 · 

Thomas Wagner

 · 

Samuel

 · 

Daz
Year 2
Oluo Bozado

 · 

Gunther Schultz

 · 

Petra Ral

 · 

Eld Jinn

 · 

Rico Brzenska

 · 

Ian

 · 

Gelgar

 · 

Nanaba

 · 

Abel

 · 

Moblit

 · 

Ilse Langnar

 · 

Sharle Inocencio

 · 

Xavi Inocencio

 · 

Keiji

 · 

Nifa

 · 

Thomas
Year 3
Levi

 · 

Hange Zoë

 · 

Mike Zacharias

 · 

Cardina Baumeister
Transfer Students
Isabel Magnolia

 · 

Furlan Church
Faculty
Darius Zackly

 · 

Colossus Titan

 · 

Erwin Smith

 · 

Nile Dok

 · 

Dita Ness

 · 

Hannes

 · 

Kitz Weilman

 · 

Keith

 · 

Kenny Ackerman

 · 

Traute Caven

 · 

Frieda Reiss

 · 

Dot Pixis

 · 

Fugo

Civilians
Grandpa Arlert

 · 

Mr. Ral

 · 

Dimo Reeves

 · 

Roy

 · 

Dario Inocencio

 · 

Mr. Blouse

 · 

Rod Reiss

 · 

Marie Dok

 · 

Peaure

 · 

Carla Yeager

 · 

Grisha Yeager

 · 

Ms. Kirstein

 · 

Ms. Springer

 · 

Mr. Springer

 · 

Zeke
Anime
Episodes
Starting School! Titan Junior High School

 · 

Chasing! Titan Junior High School

 · 

Dodgeball! Titan Junior High School

 · 

Cleanup! Titan Junior High School

 · 

Studying Hard! Titan Junior High School

 · 

Love Letter! Titan Junior High School

 · 

Showdown! Titan Junior High School

 · 

Spine-chiller! Titan Junior High School

 · 

Sweet Summer! Titan Junior High School

 · 

Recommendation! Titan Junior High School

 · 

Clear and Sunny! Titan Junior High School

 · 

Attack! Titan Junior High School
Characters
Year 1
Eren Jaeger

 · 

Armin Arlelt

 · 

Mikasa Ackermann

 · 

Christa Lenz

 · 

Ymir

 · 

Sasha Braus

 · 

Jean Kirschtein

 · 

Conny Springer

 · 

Mina Carolina

 · 

Thomas Wagner

 · 

Milieus Zeremski

 · 

Marco Bodt

 · 

Nack Tierce

 · 

Daz

 · 

Samuel Linke-Jackson

 · 

Annie Leonhart

 · 

Franz Kefka

 · 

Hanna Diament

 · 

Bertholdt Hoover

 · 

Reiner Braun

 · 

Marlo Freudenberg

 · 

Hitch Dreyse

 · 

Boris Feulner
Year 2
Nanaba

 · 

Gelgar

 · 

Oruo Bozad

 · 

Petra Rall

 · 

Eld Gin

 · 

Gunther Schultz

 · 

Moblit

 · 

Rico Brzenska

 · 

Mitabi Jarnach

 · 

Ilse Langnar

 · 

Ian Dietrich

 · 

Isabel Magnolia

 · 

Furlan Church
Year 3
Levi

 · 

Hange Zoë

 · 

Miche Zacharius

 · 

Dennis Aiblinger
Titans
Colossal Titan

 · 

Peering Titan

 · 

Sawney

 · 

Beane
Faculty
Hannes

 · 

Keith Sadies

 · 

Dhalis Zachary

 · 

Nile Dawk

 · 

Erwin Smith

 · 

Dot Pyxis

 · 

Anka Rheinberger

 · 

Gustav

 · 

Kitz Woermann
Civilians
Carla Jaeger

 · 

Grisha Jaeger

 · 

Grandfather Arlelt

 · 

Dieter Ness
Frieda†