The subject of this article is anonymous.
The name used is an alias, nickname or surname found in an official source, but the actual in-universe name of this person is unknown in this continuity.
This article is incomplete.
Please feel free to edit this article to add missing information and complete it.


Specifically, it needs more references.
Ogre (オーガ Ōga?)[citation needed] was the name given to a 10m Titan that plagued the efforts of the Survey Corps during their early years.
Appearance
This Titan was unusually muscular and possessed a long scar going down the side of its face (running above and below the left eye). It also had scruffy white hair and had strings of flesh which connected the lower jaw to the upper jaw; this would make it appear to be constantly smiling.
History
During an early expedition by the Survey Corps many years ago, Ogre appeared alongside several other Titans and killed countless soldiers serving under the leader of the expedition Jorge Pikale, including squad leader Heath Mansel.[1]
Story
Several years later, Ogre is seen roaming outside Wall Maria and is spotted from atop the Wall by a young girl named Sharle Inocencio.[2]
When a young man named Kuklo sneaks aboard a Survey Corps wagon on an expedition under Commander Carlo Pikale, Ogre appears and causes the deaths of many Survey Corps soldiers. During the attack, it picks up both Kuklo and another Survey Corps member to try and eat them. However, it is stabbed in the eye by Kuklo. Reacting in pain, it angrily throws him up in the air; Kuklo is able to maneuver himself and, to break his fall, stabs his knife into its back.[3]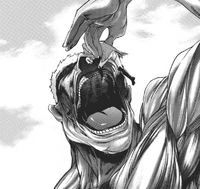 Ogre grabs several members of the Survey Corps and devours them one by one while resuming its attack. Both Kuklo and Carlo remain behind to distract Ogre, allowing the surviving soldiers to retreat to Shiganshina District.[4] Ogre eventually catches up with the two and as it lunges at them, Kuklo throws an ignition bulb at a nearby wagon full of gunpowder. The bulb ignites, causing the gunpowder to explode near the Titan's chest and severely burning it.[5] Roaring in pain, the Titan nevertheless continues to follow Kuklo and Carlo as they approach Wall Maria. The two are able to reach inside the Wall and Ogre soon leaves the Wall to continue roaming the surrounding area.
When Kuklo and Cardina Baumeister are testing a prototype of the vertical maneuvering equipment out beyond the Walls, Ogre appears once more and notices the two. Spotting Cardina stranded along the face of Wall Maria, Ogre sees him as an easier target and rushes past Kuklo towards the Wall.[6] After the teen flies out of its reach, Ogre somehow notices that the equipment Cardina is using seems to have been damaged and decides to merely wait for him to lose his grip and fall.[7] However, Cardina is saved by the timely arrival of both Carlo and Jorge Pikale; seeing its target escaping its grasp, Ogre decides to jump up and try to catch him but narrowly misses.[8] Frustrated, it then notices Kuklo flying around him and shifts its attention to kill him instead. Ogre senses the teen has landed on its neck and manages to shake him off before the teen can land a blow near the nape. Becoming enraged, it swipes the air and knocks around several smaller Titans but misses Kuklo every time.[9] Ogre sees both Cardina and Carlo Pikale return to get Kuklo and merely glares up at them as the three retreat to the top of the Wall.[10]
During a Survey Corps expedition roughly seven kilometers beyond the Wall, Ogre is among the Titans spotted by both teams seven and eight; due to the poor conditions of the terrain, the teams stood no chance of surviving and it is presumed Ogre was responsible for a majority of the soldiers getting killed.[11][12] It then leaves the remaining soldiers to be killed or devoured by the smaller Titans. Lumbering through a forest several kilometers further south, it goes past both Kuklo and Xavi Inocencio who are in the middle of a duel; Ogre sniffs the air and, picking up their scent, immediately looks at the two.[13] It moves to grab Xavi, but instead grabs Kuklo and tries to crush him.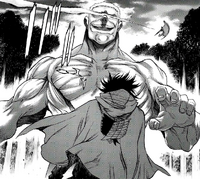 Kuklo frees himself by slicing off several of Ogre's fingers; this causes Ogre to lose its grip on the teen but it immediately slams Kuklo into a nearby tree.[14] As Kuklo tries to escape, Ogre remains close behind, knocking down trees as it relentlessly pursues the teen. It swings its arm and narrowly misses Kuklo, but is able to destroy part of his vertical maneuvering equipment. It grins in satisfaction and begins to close in. Suddenly, Ogre is blinded by Xavi slicing open its eyes.[15]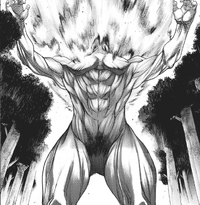 Undeterred by this, Ogre reaches to grab Kuklo but gets its fingers sliced off once again and is unable to stop Kuklo from landing upon its nape.[16] Ogre tries to shake him off but is soon joined by Xavi. The efforts of both are able to slice open Ogre's nape; sensing this, Ogre lets out a massive burst of steam and dies, falling towards the ground as it dissipates.[17]

Abilities
Regeneration: This Titan has the ability to regenerate entire limbs as well as any injuries but appears to regenerate at a very impressive rate as it managed to heal its entire foot within a few seconds completely.
Demonstrates abnormal behavior: This Titan expressed abnormal behavior when attacking the Survey Corps, it began to lift up smaller Titans and throw them straight at the Survey Corps.
Unusually muscular and is well-proportioned: This Titan expresses unusual characteristics such as being muscular which is very uncommon among pure Titans considering most are either pot-bellied or almost skeletal. Its body is also well proportioned which is, again, uncommon for a Titan.
People killed
Failed attempts
References
Community content is available under
CC-BY-SA
unless otherwise noted.