This article is incomplete.
Please feel free to edit this article to add missing information and complete it.
Old Story (昔話 Mukashibanashi?) is the 3rd episode of the 3rd season and the 40th episode overall of the Attack on Titan anime, produced by Wit Studio and Production I.G.
Overview
Summary
Currently Publicly Available Information
Intelligent Titans (with power to transform)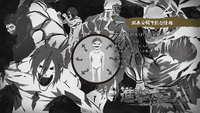 An Intelligent Titan is conceived when a Pure Titan lacking intelligence consumes some other Intelligent Titan. By consuming an Intelligent Titan, it gains consciousness as well as the consumed Titan's powers.
Characters in Order of Appearance