This article is incomplete.
Please feel free to edit this article to add missing information and complete it.


Specifically, it needs the Japanese release date.
Town of Eternal Night (常夜の街 Tokoyo no Machi?) is the 2nd chapter of the 10th volume and the 34th chapter overall of the Attack on Titan: Before the Fall manga, written by Ryō Suzukaze and illustrated by Satoshi Shiki.
Overview
Xavi is angered about Rixner's actions that led to Sharle almost getting assaulted, but gives him another chance. He stations guards leaving the city to track Sharle's movements. Sharle reaches the Underground City and encounters Angel. He refuses to see her and leaves, causing Sharle to chase after him. She gets lost and then quickly surrounded by thugs.
Summary
Rixner profusely apologizes to Xavi for selecting Michael Pottering as a possible suitor for Sharle. Xavi notes that this is uncharacteristic of him; although angered, Xavi admits some of the fault lies with him and is primarily glad that Sharle is safe. He tasks Rixner to deal with the two boys that tried to rape Sharle and vows to financially destroy the Pottering family; finally, he asks about Sharle's current whereabouts. Rixner confirms that Sharle was sent back to the house but disappeared soon after. Xavi theorizes that she is either heading back to either Shiganshina or the Industrial City; he assigns Rixner to post guards and include inspections on carriages going into Stohess and Yarckel as a precaution.
In Stohess District, Sharle makes her way through to the entrance to the Underground City. As she left her earlier meeting with Hans, he could tell Sharle was resolved to go there no matter what and gives her advice on how to mask her appearance; before she leaves, Sharle is told to find a woman named Klarissa. Finding the entrance between two buildings, Sharle travels underground through a long tunnel until she reaches two men. Handing over money to gain entrance to the city, Sharle almost blows her cover but stops herself in time.
Sharle makes her way to the brothel where Klarissa works at; a few minutes pass and Sharle is granted an audience with her. Taking the girl to a back room, Klarissa states they can speak freely here. Relieved, Sharle asks where she can find Angel. Klarissa surprises her by saying he is here, drinking. Sharle is led outside and sees an unkempt man drinking in the shadows; caught off-guard, Sharle approaches Angel and states she is an apprentice working under Xenophon Harkimo.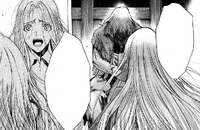 Angel pauses, then continues to drink. Sharle persists, saying that Xenophon, herself and others inherited his will to fight the Titans: this enrages Angel and berates Sharle for disturbing him before walking away. She runs after him to apologize but quickly becomes lost. As Sharle recalls Hans's words that the Underground City is not a safe place for a woman, several thugs appear and quickly surround her.

Characters in order of appearance
Community content is available under
CC-BY-SA
unless otherwise noted.