IMPORTANT DISCLAIMER!
Well, that's it. This week I'll start college for the first time in my life. This is not a goodbye. I will be part of the wiki and I can ensure you that I will keep editing. I have had a lot of fun in this wiki and there is still a lot to do. So I'll be here, but probably I'll have less free time.
Thank you for making this wiki one of the best anime-manga wikies of the Internet. Makes me proud being part of this project. And I will be a part of it.
I have already offered up my heart, after all ;)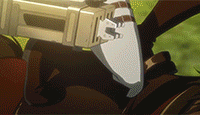 Hello! As you can see my nickname is Raposu, I am currently an student, I live in Europe ( I won't tell where I live, muajajaja). I love manga, anime, video games and basketball. I hate hypocrites, wannabes, sea food and hot weather.
I like Attack on Titan ( obvious), Tokyo Ghoul, Dark Souls and Ashes Remain. And I LOVE being a part of a whole. That's why a love wikies and some team activities. We all are part of something. Not only in the wiki.
Currently watching: nathing 0_0
Currently reading: Attack on Titan and Berserk 
Currently playing: Dark Souls 2: Scholar of the First Sin ( Fuck yeah) and Metal Gear Solid V: Groud Zeroes
Future projects
Improve manga chapters, especially the older one, adding overviews and updating the outdated info.
Update the arc pages to the new layout.
Add references to unreferenced articles.
In the future, update Connie's page.
In the future, complete some pages ( For example, Grisha's page has no relationships )
In the future, add GIFS to every important character page.
My favorite pages
Add links to your favorite pages on the wiki here!
Favorite page #2
Favorite page #3
Community content is available under
CC-BY-SA
unless otherwise noted.