This article is about the visual novel. For other uses of this name, see Wall Sina, Goodbye (Disambiguation).
---
This article is incomplete.
Please feel free to edit this article to add missing information and complete it.


Specifically, it needs the summary completed.
Wall Sina, Goodbye (進撃の巨人 Wall Sina, Goodbye Shingeki no Kyojin Wall Sina, Goodbye?) is a visual novel by Hiroshi Seko. It was first released on December 18th, 2013 in Japan bundled with the sixth anime Blu-ray. The story was also included in the novel Attack on Titan: Lost Girls which was later adapted into a manga of the same name.
Summary
Chapter One
Annie Leonhart awakens in the Military Police Brigade barracks in Stohess District, depressed about tomorrow's mission in which she must infiltrate the 57th Survey Corps Extramural Expedition and capture Eren Yeager. She thinks back to the aftermath of the battle of Trost District one month ago, recalling the many trainees who died partly due to her actions.
Chapter Two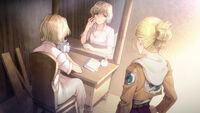 In the barracks, Annie waits for her roommate Hitch Dreyse to return from the showers. Once Hitch arrives, she asks her to report her as sick tomorrow. Hitch agrees on the condition that Annie takes care of a task she had been assigned. Carly Stratmann, daughter of Elliot G. Stratmann, chairman of the Marleen Company, had been reported missing and Elliot wants her found. Annie agrees to take the job. Annie considers taking Hitch's advice and submitting a report saying she could not find her while in reality not looking at all, but Annie decides to take the job seriously in order to distract her from the anxiety of tomorrow's mission.
Chapter Three
After heading to the estate of the Stratmann family, Annie meets with Elliot Stratmann to ask him about the disappearance of his daughter. Annie is impressed with Elliot's intuition as he figures the neglectful nature of the investigation. Elliot explains that two days before she went missing, Carly did not show up for dinner with him, a tradition in their household regardless of their busy schedules. Annie asks many questions concerning Carly, but Elliot responds to each saying that he knows little about his own daughter. They discuss the pasts of Carly and the Stratmann family, but the conversation is cut short with a loud knocking at Stratmann's door. As Elliot sends his butler to answer the door, Annie notices a man leaving the estate and jumping the fence outside. The butler returns with a letter left by the visitor. Elliot looks it over, and Annie leaves with no more questions and no real clues.
Chapter Four
Chapter Five
Chapter Six
Chapter Seven
Chapter Eight
Chapter Nine
Chapter Ten
Chapter Eleven
Chapter Twelve
Chapter Thirteen
Chapter Fourteen
Chapter Fifteen
Community content is available under
CC-BY-SA
unless otherwise noted.