Doctor Strange in The Multiverse o Madness - The Loop
Play Sound
Welcome Party (歓迎会 Kangei-kai?) is the 2nd chapter of the 16th volume and the 64th chapter overall of the Attack on Titan manga, written and illustrated by Hajime Isayama.
Overview
The battle for the power of the Reiss family comes to a head below the Reiss family chapel as Kenny and the Anti-Personnel Control Squad face off against Hange and Squad Levi. Rod explains how Frieda Reiss acquired the power of the Titans, as well as revealing the mysterious special Titan that built all three Walls a century ago. During the battle, Hange becomes seriously injured after fighting Kenny's second-in-command before forcing them to flee. About to turn Historia into a Titan, Rod is confronted by Kenny, who reveals his original plan to turn into one himself by eating Eren.
Summary
Hange and Levi's squad are outside the Reiss chapel, planning their invasion. After preparing, Levi asks his squad if they are ready to get their hands dirty, all revealing strained but determined expressions. Inside the chapel underground cavern, Kenny's second-in-command does a mental headcount of the soldiers they will face. She notes that Levi will be present as well, and she decides that they will first attempt to lure them out and fire on them all at once. She mentions Squad Levi's skill at using the vertical maneuvering equipment versus their own numbers, and predicts that they will not try anything reckless because of this.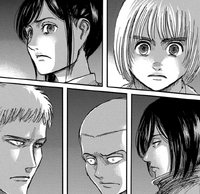 She says that even despite running straight into an ambush, Levi escaped unharmed with twelve of her men dead. Mentioning how the former monarch has fallen, she succumbs to her squad's eventual fate, expressing that dying in the chapel would be preferable over living and being detained by the Survey Corps, indicating inhuman methods of torture awaiting them otherwise. With the Titans capable of breaking the Walls at any moment as well, she questions why they even joined the Military Police in the first place, with the reason being that they wished to find meaning in the world inside the Walls. She concludes her speech with the fact that they must trust in Kenny's dream and fulfill their duty until death.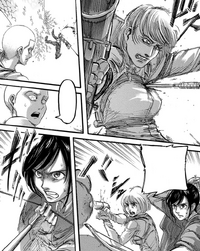 A foot kicks the entrance door open, catching the attention of Kenny's soldiers. Suddenly multiple barrels roll down the stairs, all lined with gas canisters. Levi's squad rushes in, weapons ready, and Sasha aims a flaming arrow at one of them, causing a bright explosion. With the vast and rapid spread of the fire, Kenny's second-in-command realizes the barrels to contain bags full of oil. The fire emits smoke, blinding Kenny's men. Levi and Mikasa charge in sync, forcing Kenny's men to shoot. Hange and Connie fire signal flares in the direction of Levi and Mikasa, with Armin, Jean and Sasha preparing them for quick use, as to make it more difficult for Kenny's men to shoot accurately. Levi reveals the spot at which Kenny's men are planted and orders them to keep attacking. Kenny's second-in-command counters by ordering her men to strike individuals in groups.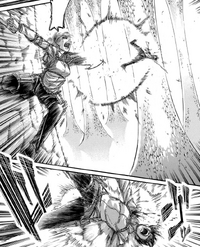 Hange, Jean, and Connie head into the heart of the chapel, with Armin noting that it was exactly how Hange planned out. In the air, Hange contemplates the size of the chapel, deducing that it is not man-made while also attempting to measure the latitude. Hange thinks back to when they were with Armin and Sasha in the wagon as they prepared their part in the chapel siege, just as in present time when Sasha fires another arrow at the barrels. Jean appears behind a blinded enemy and thinks back to when Armin revealed that the anti-personnel vertical maneuvering equipment's primary weakness is the range of fire being restricted from backwards angles, leaving open an attack from behind. Jean appears above the soldier and cuts his throat with his blade, and the two lock eyes before the man falls. A soldier spots Connie and shoots several bullets, but misses. Connie sneak attacks another soldier and attempts to kill him, and manages to maim his head, letting him fall below. To Connie's shock, Sasha kills the woman by shooting an arrow straight to her heart, and Armin orders him to focus on the mission. Hange notes that, after having already shot two sets of bullets, they can take the advantage as it takes a while to reload, and kills a soldier by striking his heart with their blade.
Kenny's second-in-command realizes Hange's ploy to divide her men as an attempt to kill them all individually. Just as Mikasa kills another man, Kenny's second-in-command sees the enemy's advantage with their swords. As another soldier attempts to fight Mikasa, calling her a monster and charging, Levi kicks him unconscious into a Wall. As Levi's squad gains a substantial upper hand, Kenny's second-in-command looks for an opening and shoots bullets at Hange. Hange however taunts her, criticizing her off aim and claims she is rushing to her death. Kenny's second-in-command successfully punctures Hange with a hook, catching them off-guard, and Hange is thrown below, to the horror of the entire squad. Kenny's second-in-command commands them to take the advantage and retreat. Levi orders Armin to tend to Hange while he and the rest of the squad prepare to chase the remainder of Kenny's men. Knowing Kenny is still in the cave, Levi questions his location.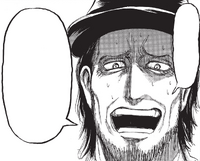 Rod and Historia hear the fight close to them, and he ushers her to hurry. Frantically struggling, Eren is asked by Historia as to why he is glaring at her, and Rod explains that it is because he realizes his fate. He says that Eren's Titan powers that he stole will be returned and put into Historia. He goes into the history of the Walls, explaining that they were created a century ago by a special Titan. This Titan wished peace for humanity and built Maria, Rose and Sheena as to protect them from the roaming Titans outside. Rod explains it as a power reaching into their hearts, altering humanity's memories, though some bloodlines were unaffected by this change. Despite still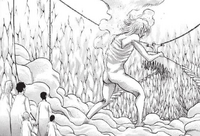 retaining some of these memories, he concludes that neither these bloodlines nor their ancestors remember anything about how the Titans came to be, except for Frieda Reiss.
As a ritual that occurred generation after generation for one hundred years, a Reiss would devour another in order to obtain the power of the Titans and memories of the past world, as in the case of Frieda with her predecessor, her uncle. Even though she knew the secrets of the world after the ritual and was allowed to disclose them, every Reiss monarch within the century span never chose to. He says that humanity would not be in their current predicament if Frieda had used her Titan powers, with her being capable of even wiping out all Titans forever. Historia questions him as to why it did not happen, and he points to Eren, who stole the Titan's power, but is unable to use them because he is not a Reiss. Hearing these words, Eren's expression turns to horror. Suddenly Kenny lands on the ground, confirming with Rod that as Eren contains the Titan's power, he cannot use them due to his blood status. Rod agrees but wonders why Kenny asked. Kenny asks if there is no point in him turning into a Titan himself and eating Eren, revealing his true colors.
Characters in order of appearance